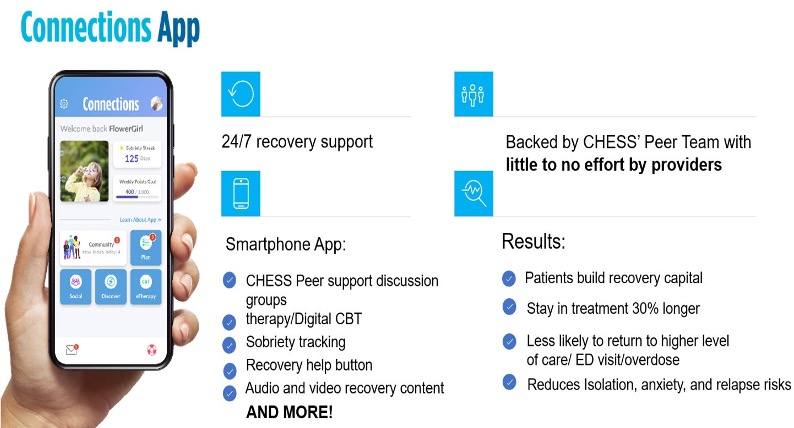 The CHESS Connections app is an evidence-based smartphone app that helps individuals adhere to their treatment plan and stay in recovery. The app helps patients build healthy habits, reduce isolation, and celebrate achievements. CHESS Health has certified peer recovery specialists available everyday for those enrolled in the app, offering 24/7 community support in online forums, virtual support meetings and crisis help, and cognitive behavioral therapy focused on recovery. Conexiones, a version of the app for individuals who prefer Spanish, offers dedicated support for the Latinx communities who face additional challenges accessing recovery resources. 
Our Goal
The CHESS Connections App end goal is to enroll West Virginians in an "evidence-based smartphone app with 24/7 moderated peer support that helps individuals reduce isolation, build confidence, and adhere to their treatment plan and stay in recovery," and increase those enrollments over time.​
Capabilities Applied
Our Results
A study used data collected through CHESS Health Connection App from April 2020 to July 2022. A total of 1,914 participants provided 14,069 instances of check-in data during this time period. Our data revealed:
The CHESS Connections app show that successful 

implementation of an substance use disorder-focused e-intervention can be

used to improve recovery progress on a statewide basis.

​

Brief Addiction Monitor (BAM) recovery improvement scores indicated client

progress improved throughout the duration of the study. 

​

Provider app version users tended to fare better than 

public app version users, likely due to a more tangible 

connection to their providers and SUD treatment. 

BAM scores could be used to predict substance use in the 

future, thus providing a useful tool for providers to gauge 

potential upcoming risk for their patients/clients.
To read more evidence-based results on the Connections app, visit chess.health/evidence/ ​